Limited quantities of 30ml size available. 3 x 10ml bottles will be substituted when needed to fill a 30ml order. If the 30ml size is specifically required please call to make request.

For Vitamin B12 Deficiency - B12 Nutritional Deficiency - Weight Control - Pernicious Anemia - Schilling Test
Vitamin B-12 is an important vitamin that you usually get from your food. It is mainly found in meat and dairy products. Vitamin B-12 helps make red blood cells and keeps your nervous system working properly.

*Due to an industry shortage of 30mL brown glass vials and to eliminate any downtime in supply, our manufactures have temporarily switched to a larger 50mL brown glass vial. These are bigger vials that may appear half full. But please be assured that there is 30mL of B12 in each bottle and there are no other differences.

***This item does not come with syringes or needles.***
Needles are on SALE now! Don't forget to get it!
To avoid needle pain,
we offer a strong and easy to use anaesthetic cream:
dermaplanet Laser Numbing Cream.
Generic of Rubramin PC®
Generic Name: CYANOCOBALAMIN INJECTION USP
Therapeutic Area (AHFS): Vitamins/Vitamin B Complex
Dosage Form: injection, USP
This Vitamin B-12 shot can be used at home as an injection, under instruction of a doctor. Before using this medicine, a health care professional will provide detailed instructions for appropriate use of this medicine. Ask any questions that you may have about this medicine or giving injections. Store this medicine as directed. If you miss a dose of this medicine, use it as soon as possible. If it is almost time for your next dose, skip the missed dose and go back to your regular dosing schedule. Do not use 2 doses at once.
Cautions
DO NOT TAKE large doses of vitamins (megadoses or megavitamin therapy) unless directed to by your doctor. DO NOT STOP USING THIS MEDICINE without first checking with your doctor. IT IS IMPORTANT that you keep all doctor and laboratory appointments while you are using this medicine. BEFORE YOU BEGIN TAKING ANY NEW MEDICINE, either prescription or over-the-counter, check with your doctor or pharmacist.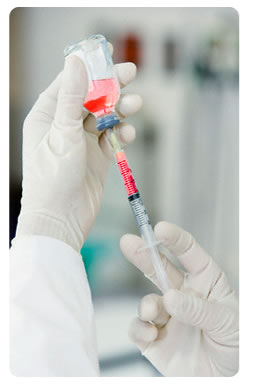 Rubramin PC® Description
Rubramin PC® (Cyanocobalamin Injection) contains cyanocobalamin (vitamin B12) in a clear, red,sterile, nonpyrogenic, aqueous solution in a potency of 1000 mcg/mL (cobalt: 40 mcg/mL) for intramuscular use. Each mL of solution also contains 10 mg benzyl alcohol as a preservative and sodium chloride for isotonicity; pH has been adjusted between 4.5 and 7.0 with sodium hydroxide or hydrochloric acid.
Cyanocobalamin is very hygroscopic in the anhydrous form, and sparingly soluble in water (1:80). The vitamin B12 coenzymes are very unstable in light.
Rubramin PC® - Clinical Pharmacology
Vitamin B12 is essential to growth, cell reproduction, hematopoiesis, and nucleoprotein and myelin synthesis.
Cyanocobalamin is quantitatively and rapidly absorbed from intramuscular sites of injection; the plasma level of the compound reaches its peak within one hour after intramuscular injection. Absorbed vitamin B12 is transported via specific B12 binding proteins, transcobalamin I and II to the various tissues. The liver is the main organ for vitamin B12 storage.
Within 48 hours after injection of 1000 mcg of vitamin B12, 50 to 98 percent of the injected dose may appear in the urine. The major portion is excreted within the first eight hours.
Gastrointestinal absorption of vitamin B12 depends on the presence of sufficient intrinsic factor and calcium ions. Intrinsic factor deficiency causes pernicious anemia, which may be associated with subacute combined degeneration of the spinal cord. Prompt parenteral administration of vitamin B12 prevents progression of neurologic damage.
The average diet supplies about 5 to 15 mcg/day of vitamin B12 in a protein-bound form that is available for absorption after normal digestion. Vitamin B12 is not present in foods of plant origin, but is abundant in foods of animal origin. In people with normal absorption, deficiencies have been reported only in strict vegetarians who consume no products of animal origin (including milk products or eggs).
Vitamin B12 is bound to intrinsic factor during transit through the stomach; separation occurs in the terminal ileum in the presence of calcium, and vitamin B12 enters the mucosal cell for absorption. It is then transported by the transcobalamin binding proteins. A small amount (approximately 1 percent of the total amount ingested) is absorbed by simple diffusion, but this mechanism is adequate only with very large doses. Oral absorption is considered too unreliable in patients with pernicious anemia or other conditions resulting in malabsorption of vitamin B12.
Cyanocobalamin is the most widely used form of vitamin B12, and has hematopoietic activity apparently identical to that of the anti-anemia factor in purified liver extract. Hydroxycobalamin is equally as effective as cyanocobalamin, and they share the cobalamin molecular structure.
Indications and Usage for Rubramin PC®
Rubramin PC is indicated for use as the flushing dose in the Schilling (vitamin B12 absorption) Test for pernicious anemia.
Contraindications
This preparation is contraindicated in patients who are sensitive to cobalt and/or vitamin B12.
Warnings
Patients who have early Leber's disease (hereditary optic nerve atrophy) have been found to suffer severe and swift optic atrophy when treated with vitamin B12.
Fatal hypokalemia may occur when severe megaloblastic anemia is treated intensively with vitamin B12, as a result of increased erythrocyte potassium requirements
Precautions
General