For Vitamin B12 Deficiency - B12 Nutritional Deficiency - Weight Control - Pernicious Anemia - Schilling Test
Vitamin B-12 is an important vitamin that you usually get from your food. It is mainly found in meat and dairy products. Vitamin B-12 helps make red blood cells and keeps your nervous system working properly.

*Due to an industry shortage of 30mL brown glass vials and to eliminate any downtime in supply, our manufactures have temporarily switched to a larger 50mL brown glass vial. These are bigger vials that may appear half full. But please be assured that there is 30mL of B12 in each bottle and there are no other differences.

***This item does not come with syringes or needles.***
Needles are on SALE now! Don't forget to get it!
To avoid needle pain,
we offer a strong and easy to use anaesthetic cream:
dermaplanet Laser Numbing Cream.
Generic of Rubramin PC®
Generic Name: CYANOCOBALAMIN INJECTION USP
Therapeutic Area (AHFS): Vitamins/Vitamin B Complex
Dosage Form: injection, USP
This Vitamin B-12 shot can be used at home as an injection, under instruction of a doctor. Before using this medicine, a health care professional will provide detailed instructions for appropriate use of this medicine. Ask any questions that you may have about this medicine or giving injections. Store this medicine as directed. If you miss a dose of this medicine, use it as soon as possible. If it is almost time for your next dose, skip the missed dose and go back to your regular dosing schedule. Do not use 2 doses at once.
Cautions
DO NOT TAKE large doses of vitamins (megadoses or megavitamin therapy) unless directed to by your doctor. DO NOT STOP USING THIS MEDICINE without first checking with your doctor. IT IS IMPORTANT that you keep all doctor and laboratory appointments while you are using this medicine. BEFORE YOU BEGIN TAKING ANY NEW MEDICINE, either prescription or over-the-counter, check with your doctor or pharmacist.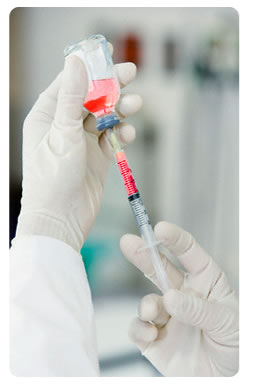 Rubramin PC® Description
Rubramin PC® (Cyanocobalamin